Enterprise Voicemail Features
Next-generation telephone messages and voice recordings
The new standard for B2B telephone communication
A system to save you time and money
Enterprise Voicemail combines professional telephone messages and voice recordings with a powerful management software. The expensive, time-consuming recording of individual messages is a thing of the past, as is the complicated integration of the recordings into your voicemail programme.
A truly flexible software
You can set up and use Enterprise Voicemail with minimal effort – in individual units or departments with several thousand employees. Including a landline version and multiple languages.
More than just voicemail
Powerful features for modern business.
Excellent audio quality
All messages are recorded by professional voice actors at a natural speed. They can be enhanced with royalty-free music, a company jingle, or an audio logo.
More than 100 professional voice actors
Pick and choose: a large pool of professional voice actors is available to record your messages. We offer a variety of timbres, age groups, and languages.
Simple switching between messages
Your employees can easily switch back and forth between different messages or enable multiple languages at the same time.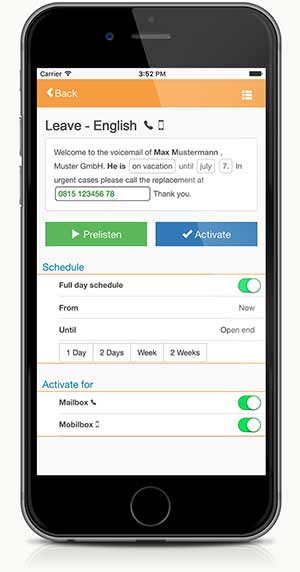 Real-time updates
Thanks to the useful calendar function, your employees will be able to plan voice messages of their own accord, freely switch between them, and activate them for your voicemail in real time.
TSP independence
Enterprise Voicemail is compatible with all telecommunications service providers and can be integrated into your existing telecommunications system easily.
Intuitive operation
Your employees will learn to use the intuitive user interface in no time. All management functions are easily accessible.
Benefits for any business segment
Enterprise Voicemail is compatible with any device.
Impress your marketers
Enterprise Voicemail will support you and your marketing division with complex audio-branding processes. Enhance your valuable corporate identity and your brand profile.
Impress your IT managers
Enterprise Voicemail is a web-based application that requires minimal administrative effort. Its special administrator access facilitates an easy set-up and allows the tool to be used from anywhere in the world.
Impress your purchasers
Enterprise Voicemail is completely scalable. You can integrate new employees at any time. Or expand your messages with maximal transparency and at a predictable cost.
Simple telecommunications integration
We cooperate with powerful TSPs.
The Hiprocall network includes telecommunications companies in Europe and the USA. Enterprise Voicemail can be integrated into your telecommunications infrastructure easily and conveniently.




Enterprise Voicemail is available for a monthly rate from
only 0,89€
per user.
Try it free for 30 days
Get a free demonstration of all the advantages of Enterprise Voicemail.